Jual Original Track Pad MacBook 13 inch A1278
Harga Diatas BELUM termasuk Ongkos Pasang
Original Apple Parts
Garansi 30 Hari
Compatible with MacBook Pro 13" Unibody A1278
MB990*/A 2.26 GHz Core 2 Duo 13.3"  MacBookPro5,5 (2009)
MB991*/A 2.53 GHz Core 2 Duo 13.3"  MacBookPro5,5 (2009)
MC374*/A 2.4 GHz Core 2 Duo 13.3"  MacBookPro7,1 (2010)
MC375*/A 2.66 GHz Core 2 Duo 13.3"  MacBookPro7,1 (2010)
MC700*/A 2.3 GHz Core i5 13.3"  MacBookPro8,1 (Early 2011)
MC724*/A 2.7 GHz Core i7 13.3"  MacBookPro8,1 (Early 2011)
MD313*/A 2.4 GHz Core i5 13.3"  MacBookPro8,1 (Late 2011)
MD314*/A 2.8 GHz Core i7 13.3"  MacBookPro8,1 (Late 2011)
MD101*/A 2.5 GHz Core i5 13.3"  MacBookPro9,2 (Mid 2012)
MD102*/A 2.9 GHz Core i7 13.3"  MacBookPro9,2 (Mid 2012)
Jual Original Track Pad MacBook 13 inch A1278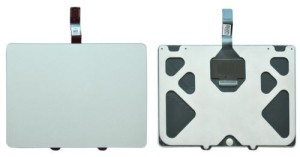 Trackpad problems getting you down?
Wrangle your unruly cursor with a well behaved trackpad! No more more random mouse jumping, missed clicks, or erratic tracking – regain control of your computer and point and click that cursor to wherever your heart desires.
Feel confident in your purchase – all of our Used Trackpads are cosmetically inspected and functionally tested in house and come with a 1 year warranty. Help extend the life of your computer with a used trackpad and feel good knowing that you've part of a sustainable economy and have kept a functional part out of the landfill.
Compatibility
MacBook Pro 13″ Unibody Early 2011

2.3 GHz (Early 2011)
2.7 GHz (Early 2011)

MacBook Pro 13″ Unibody Late 2011

2.4 GHz (Late 2011)
2.8 GHz (Late 2011)

MacBook Pro 13″ Unibody Mid 2009

2.26 GHz (Mid 2009)
2.53 GHz (Mid 2009)

MacBook Pro 13″ Unibody Mid 2010

2.4 GHz (Mid 2010)
2.66 GHz (Mid 2010)

MacBook Pro 13″ Unibody Mid 2012

2.5 GHz (Mid 2012)
2.9 GHz (Mid 2012)
---
Replacement Guides
Harga Diatas BELUM termasuk Ongkos Pasang
Jual Original Track Pad MacBook 13 inch A1278
jasa service macbook,
ganti trackpad macbook