Jual Battery / Baterai MacBook White 13 inch A1342
Original Apple Parts
Battery for MacBook White 13″ A1342 Unibody 2010
30 days warranty
Jual Battery / Baterai MacBook White 13 inch A1342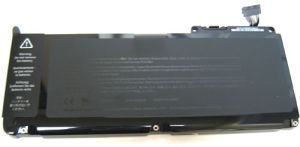 Genuine Replacement Battery for MacBook White 13″ A1342 Unibody 2010
30 days warranty
OVERVIEW
– Model: A1331
– Capacity: 10.95V 60Wh
Compatible For:
MacBook Pro 13″ A1331
MacBook White Unibody A1342
Dimensions: 8.35 in x 3.39 in x 0.51 in (21.2 cm x 8.6 cm x 1.3 cm)
Weight: 12.24 oz (347 g)
[border]
Apple MacBook Pro 13 inch Replacement Battery for A1331 A1342 661-5391 661-5585
This is a brand new Apple MacBook Pro 13 inch A1331 A1342 661-5391 661-5585 replacement laptop battery and is designed for the 2009 2010 version of Macbook Pro. This laptop is a unibody sealed case and was not originally designed to have the battery be replaced by the consumer. However, replacing the battery is not any more difficult than replacing the hard drive, which Apple does consider to be a replaceable component by the laptop owner. You will need a Tri-wing screw driver as well as a small phillips head screw driver to open up the laptop.  A tri-wing screw driver is provided at no charge with the purchase of your new battery. Before purchasing MAKE SURE that you have the correct model of MacBook Pro A1331 A1342 661-5391 661-5585. Lithium polymer battery technology provides longer run times with less weight. In addition, lithium polymer batteries are not subject to the memory effect common with older battery technology. This laptop battery replacement is 100% compatible with the original battery specifications and is individually tested and backed by a 1 year warranty.
Brand:
Voltage:
Battery Capacity:
Battery Type:
Cell Origin:
Color:
Assembly Origin:
Warranty:
Guarantee:
Useful Life:
XTend replacement computer battery
10.95 Volts
63.5Whr
Lithium Polymer
Samsung (South Korea)
Black
Assembled in China
1 Year Warranty
30 day full satisfaction guarantee
300-500 recharge cycles
Like all lithium polymer primary batteries, your run time will decline over time.
This battery replaces the Apple 13-inch MacBook Pro (Aluminum) Unibody series laptop batteries.
MacBook 13.3″ 2.26GHz Core 2 Duo (A1342) – Late 2009 ; MC207LL/A
MacBook 13.3″ 2.4GHz Core 2 Duo (A1342) – Mid 2010 ; MC516LL/A
Jual Battery / Baterai MacBook White 13 inch A1342